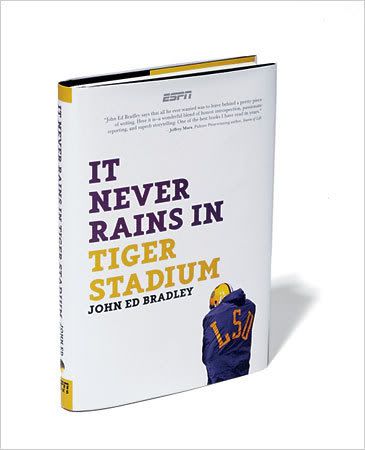 I have read in the last 2 days a pretty incredible book. I had to plead to borrow a copy of this book to read it. Have no doubt though, I am about to buy it and read it over and over the next few years.. I also am going to search this author out and thank him for opening his life up to me This is a type of book that someone that never has watched a football game in their life would love. It appears the reviews from the Louisiana papers to Esquire to the New York Times agree. It was not what I thought it would be. I have always thought that there should be mandatory seminars for college athletes to prepare themselves after that part of their life is over. This book should be on the required reading list. Here is the Baton Rouge Advocate Piece:

John Ed Bradley still haunted by Tiger Stadium memories
John Ed Bradley watches LSU football alone from a couch in his Opelousas home.
Bradley likes the couch. The couch is quiet. It leaves him alone to his thoughts; doesn't talk while the ball is in play or wave foam fingers in his face; doesn't direct his focus away from the what's happening on the offensive line.
And the couch doesn't haunt Bradley the way Tiger Stadium does.
"It's still very hard for me to go to the stadium," the author and former LSU offensive lineman said. "It's hard to be in that environment again. After I've been to a game, I'm always a jellyfish for three or four hours after it."
Bradley was a four-year letterman for the Tigers in the late '70s. He's spent much of the next three decades dodging the memories that had become folkloric and the teammates who had become family.
"It was like loving somebody … and suddenly it ends," Bradley said. "What do you do? How do you cope with having lost it? Do you keep her picture on the wall? How do you mourn the loss? What I did was I stuck it in the closet. I moved on. That's how I dealt with it."
In Bradley's new autobiography, It Never Rains in Tiger Stadium, the Sports Illustrated contributor tells his story of a middle-aged man wondering if he peaked at age 22.
"I ask myself that question all the time," he said. "Something good might happen to me: I'll have a cover [article] for Sports Illustrated. That's a wonderful achievement. Is that as good as running out under the goal posts at Tiger Stadium?
"For me, it isn't."
Despite a job covering sports for the Washington Post, Sports Illustrated and others, Bradley avoided even watching LSU football for years.
He has attended only two games at Tiger Stadium, both at the request of the athletic department, since his playing career ended.
"It wasn't because I had some grudge with the program," he said. "I loved LSU football and what I went through, but once you experience that, everything else seems a little inferior."
Bradley said he will watch another game in Tiger Stadium. He doesn't know when, but he'd like to round up a few of his buddies from his playing days to go with him. Foam fingers and distractions be damned, he hasn't seen his last game in Tiger Stadium.
But becoming a regular at Death Valley? That might still be too much for Bradley, who said he is "still living" his complicated past with LSU football.
"I hope that 10 years from now I've got a Winnebago and I'm parking in the shadow of the stadium barbecuing pork chops and drinking too much beer with all of my buddies," Bradley said. "Will that happen? I doubt it.
"I sure like to think that could happen."
Not your usual football book. What made him revist this. It began by learning the Coach he loved so dearly was dying and dealing with a teammates death. It might seem odd but to move on he literally had shut himself off from these people for 22 years. A few days ago I
ran across a amusing article about University of California Football fans that go to the away games
. The article mentioned a couple fans and their trip to watch USC play LSU.
Reeves and his wife have made the journey to South Bend every two years since the 1960s. Yet, his favorite away game memory doesn't involve the Irish."The one where we went to LSU," Reeves said of his most memorable game, which took place on Sept. 29, 1979. "We beat them with about 30 seconds to go."True to Reeves' recollection, the No. 1-ranked Trojans barely escaped Death Valley with a win. Trailing 12-10 with only a few minutes remaining in the game, USC quarterback Paul McDonald was forced to throw the ball away on 3rd-and-9 from the Trojans' 36 yard-line.A yellow flag was thrown by an umpire who LSU fans make sure to emphasize was affiliated with the Pac-10.A facemask penalty meant new life for the Trojans. With 32 seconds to play, McDonald connected with Kevin Williams for the game-winning touchdown."[Stadium officials] had to get the police to escort us out," Reeves said. "The fans were so angry - they were trying to get to us and there were only about 1,500 of us."Truth be told, I had known nothing about this gem of USC history prior to my conversation with Reeves at the airport.Man, things have really changed with LSU, haven't they
?
Bradley was of course there. He describes the scene well in
this Picayune piece
:
Bradley said. "I did a piece for Sports Illustrated on John David Booty, the USC quarterback and found him to be a real nice guy. Now I want to see the nice guy lose to the Tigers. I want to see us get a chance to make up for what happened back in '79."
That year, Bradley was one of the captains on an LSU team that faced Southern Cal for the first time, a team that came into Tiger Stadium ranked No. 1, a team with a dozen future first-round picks and two future Heisman Trophy winners, running backs Charles White and Marcus Allen.
A double-digit favorite, the Trojans scored in the final minute to win 17-12 with a drive that turned on a facemask call against defensive lineman Benjy Thibodaux.
"They stole it, pure and simple," Bradley recalled. "It was a terrible call."
It was Charley McClendon's 18th and final season as LSU coach, and in his book Bradley tells of his visit to a dying coach in 2001.
"He gave my hand a squeeze and asked me if I remembered the night USC came to Tiger Stadium and how the fans stood on their feet for four straight quarters and watched as we showed the Trojans what LSU football was all about. 'I remember it all the time,' I answered."
Bradley tells us how Charley Mac "reached a hand up and raked it in front of his face. "They called facemasking against Benjy," he whispered.
Moments later, he tells how Coach Mac "eased his grip on my hand and closed his eyes."
His coach would die three days later.
"We wanted to win so badly for Coach," Bradley said. "The thing I'll never forget about that night is having Mike the Tiger on the sidelines. He was full of life. Tiger Stadium rocked. The crowd, the fans were incredible. As great as that USC team was, as the game went on, as competitive as it was, you could see some fear in some of their players. Their eyes got as wide as saucers. I remember saying to one of them, 'in case we don't finish you off, Mike will.' "
Pretty gripping stuff. But what gets you about this book is that its lessons go far beyond football. I know I could see myself in book and I suspect many men and women will too. Elsewhere in the Picayune review:
"When I left LSU, I thought I could put football, and what went with it, behind me," Bradley said. "I was looking to find a new identity. I found out how wrong I was. The strange thing is I had to be talked into seeing a dying coach I idolized. It had been 22 years since I had sort of cut off LSU and football. I was so nervous during that visit to a man who had been so kind to me." ............Because he had a change of heart, Bradley went on a journey that unlocked some poignant slices of life of Tigers past. ....He tells the touching tale of Marty Dufrene of Larose, a '79 teammate Bradley calls the toughest offensive lineman to come out of Lafourche Parish.
Dufrene was 27, a student at a chiropractic college in Texas, when he suffered a broken neck, paralyzed, life in a wheelchair. It was 20 years ago. He had been married six years, with a 14-month-old child.
Here's Bradley: "Marty is quiet in his chair. 'I've got something to confess to you,' he says, 'something I'm sure you better than anyone will understand. When I'm feeling sorry for myself, whenever life is more than I can bear at the moment, I always do the same thing. I put the Tiger fight song on the stereo, and all the memories come back, and somehow it makes everything OK.' "
It is a good read. Just google news or google blog "It never rains in Tiger Stadium" and you will see many agree. I shall update with some reviews I found of this book in a bit.