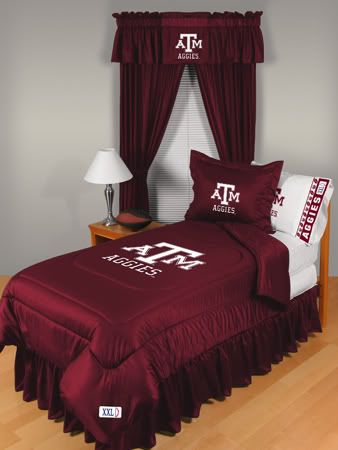 I rank it up there with the Union Army's performance during the Battle of Bull Run.
We could pull out the condemnation of how despicably the Aggies played versus an amped-up but still not fearsome-looking Miami team–but why do that when paid announcers did it on the air last night for us? Among the comments made by Messrs. Flute and James:
"They're playing high school defense out there.""3rd and 2, and you take a timeout, and they come back with a quarterback draw?""Now that's a man who's fond of being sodomized on national television."
That last one wasn't said, actually

. But it should have been. Jorvorskie Lane, mammothback, got 2 touches the entire game. The defense allowed rag-armed Kyle Wright to complete screens, short passes, and even a few underthrown deep balls for long completions. Somewhere, in a bunker amidst a pile of books on samurai warrior code, old African ceremonial masks, and a slew of Wendy's drive-thru bags, Mike Leach is sitting with steepled fingers crafting his request to the AD for one more digit to be added to the Red Raider home score display.
Actually, we'll need that extra digit pronto. Like, tomorrow. Texas Tech is
about to play the 93rd ranked pass defense in the nation, Oklahoma State
, who already faced a Leach-esque offense in Troy, who passed for 388 yards on the Cowboys. Again: they might need extra shiny digits all over that scoreboard, because Pirate School is about to put on its master's class
.