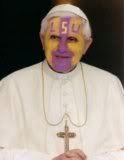 I sometimes feel bad away for saying "I hate Notre Dame" or "Kill Notre Dame" or just a good ole fashioned "Notre Dame Sucks". Why? Because Notre Dame is of course French for Our Lady. Now this is a tad bit unfair if you think about it that Notre Dame has put us in this quandary. For the record I try to figure out something else to say.
However what can we say? Is anyone going to say I hate "The School that is embarrassing the Queen of Heaven by appropriating her name while playing lousy football" or " The Constantly Overated School Coached By Charlie Weis" Sucks. Again seems like too much verbage. I suppose we could say The Irish Suck but that sounds like a hate crime.
Let me be clear. I really don't hate Notre Dame. I do think they need to get their butt into a conference(PLEASE SPARE ME THE STORY OF WHY NOTRE DAME WILL NOT DO THAT- Heard it before TOO MANY TIMES). I do like the tradition and the fact that Notre Dame football players are now singing "Notre Dame, Our Mother" to Our Lady on the Dome after every game. That is pretty cool. In fact if they did more of that stuff , AND GOT INTO A CONFERENCE, then I expect they would get better PR for their teams. I love the fact that we have a great Catholic University like Notre Dame in the USA. Especially when it is really CATHOLIC and I don't have to hear Professor x spout heresy.
I turns out thought that proper respect for the Virgin Mary is even problematic at times for Notre Dame Fans.
Fighting Irish Thomas
(Our Delusional Notre Dame Fan on the Links) got this question:
Hello FIT,I have a question that I thought you may be able to help me out with. Forgive me if this idea has been discussed before in the past, but here goes. I graduated from ND in '98 and naturally have accumulated and have been generously gifted many items which are labeled with "Notre Dame, ND, Fighting Irish.." and the various other symbols that represent our beloved university. Many of these items are sold by the book store and many of them are sold by other businesses. What probably began as mainly clothes that were labeled with Notre Dame symbols presently includes a large variety of objects ranging from pencils to carmats. Why not label everything that you use with the school that you love? But it occurred to me that these words, "Notre Dame" and the symbols which represent her or her school should probably be restricted to those material objects which we also respect. For example, I have Notre Dame carmats but should I be putting my feet onto carmats which have our lady's name? I have not seen Notre Dame diapers yet, but if I did I would think that this would be bad taste. Do you have any input here
?
Tough Questions even for the Notre Dame Faithful. To see his response go here to his post at
From our mailbag
...
Oh well. It is wel known that LSU fans get a dispensation from the Vatican for any non intentional disrespect by saying "Notre Dame Sucks". The rest of yall well consult your priest :)