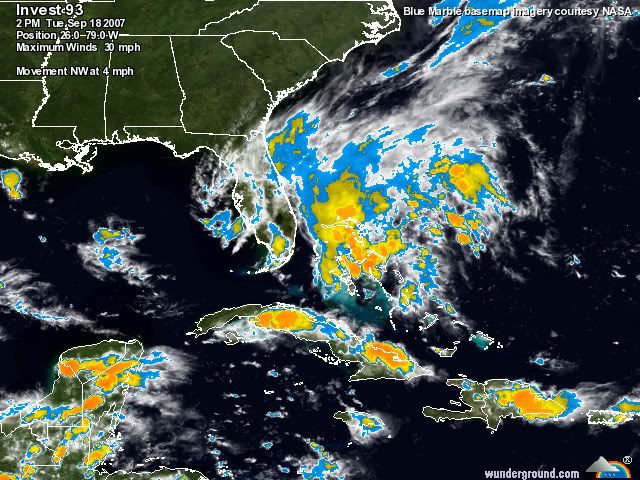 There are several tracks on this storm. Also the fact that last week's storm Humberto that developed into a unexpected Hurricane right before it hit the coast has people concerned. Somebody's football plans are about to be messed up. I have seen models of this this hitting the Louisiana Coast Saturday afternoon. The link above shows a track of it going right over Baton Rouge at Game time. Yikes
If it doesn't develop greatly after getting across Florida still look for monsoon like conditions and the SEC 6 mile from the stadium lightning rule to come into play.
If this became stronger(Hurricane/Strong Tropical Storm) we are looking at a Sunday or maybe monday game. Of course just down the road on Monday night The Saints will be playing .
Update- From a Hour ago
Electricity has been restored, debris is neatly stacked and the area is for the most part back to normal.
But could last week's Category 1 Hurricane Humberto have only been a minor taste of a worst storm to come?
The National Weather Service is continuing to monitor the tropics, Roger Erickson, forecaster for the NWS-Lake Charles office said Tuesday.
"A low pressure system is developing off the southeast Florida coast, and is expected to move into the Gulf of Mexico by late Wednesday," Erickson said in a statement issued to The News Tuesday.
"This system still has the potential to strengthen into a tropical storm or hurricane after that. Texas and Louisiana are still in the threat zone for this system."
Erickson said "if the low ends up heading towards Southeast Louisiana, the threat will be as early as Thursday or Friday, but if it continues on a westerly path, the threat for Southeast Texas or Southwest Louisiana would be late Friday through Sunday."
Shell already began evacuating personnel not essential to producing and drilling operations in the Gulf of Mexico on Tuesday.
"Precautionary evacuations began Tuesday, resulting in the safe evacuation of approximately 300 people," according to a statement issued by a Shell representative. "We are planning to evacuate approximately 400 more on Wednesday."