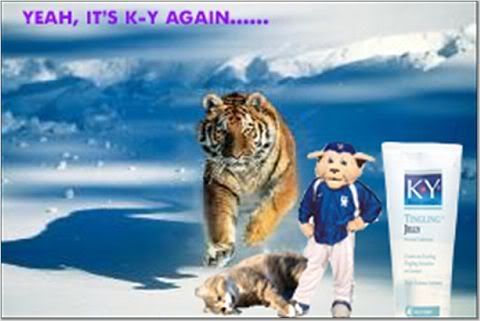 I generally love all SEC schools. When it comes Bowl time I am very loyal to all SEC Schools. Even the dreaded Bama. However Kentucky fans are quickly making me want to go buy a ton of Louisville merchandise.
I posted here on an absurd letter that was written in the University of Kentucky Newspaper at
LSU Football Fans HATE AMERICA- Kentucky Paper
. Please take a short glance at that. It answers all these wild accusations that the following Kentucky fans assert.
I have never seen a fan base act so bad after a "WIN". At least segments of it. This week two letters were written to the Baton Rouge Advocate.
Published: Oct 24, 2007
I wanted to thank the many classless LSU fans who were in attendance at the UK/LSU game in Lexington.
Our win over the Tigers can (at least partially) be attributed to the pre-game behavior of the LSU fans.
After "God Bless America" and the national anthem were played, our state song, "My Old Kentucky Home" was played. During the playing of "My Old Kentucky Home," the LSU fans began chanting "LSU, LSU" until they were drowned out by the UK fans.
Not only did the LSU fans' disgraceful behavior help give our Wildcats the inspiration they needed to win, but it also enraged the UK fans enough to make them the loudest crowd I've heard there in 20 years, truly making them a factor in the win.
LSU fans, grow up and realize when you're away you're guests of the other teams and should act accordingly
.
I used to like My Old Kentucky Home, but these fans are really making me think of a places I would love to shove that masterpiece. As my post and link above notes the band played it so softly that none of the LSU fans knew what was going on. As soon as they heard the "boos" and knew what was going on they stopped. Again the Mr Broyles appears to not have taken a quick search of the Internet to find this out. Of course I guess all 7000 LSU fans could have got together and come up with a lie. Perhaps in Georgetown Kentucky they think such X files type of thoughts.
Published: Oct 23, 2007 - Page: 6B
Thank you, LSU fans. The behavior of your fans who attended the LSU-Kentucky matchup in Lexington was a great example of how to endear yourselves to your hosts, and show respect to your country and to your opponents.
I have never attended an event of any sort wherein a group of people would begin a chant (Geaux, Tigers) during our national anthem, nor have I seen another school's band begin to play and fans begin to cheer when the opponents' band was performing on the field.
The fact that the band was playing our state song made the happening even more special.
We in Kentucky have always taken pride in our sportsmanship and manners, and many of your fans have made us appreciate that fact even more because of this boorish behavior.
Thank you, Tigers, your actions made the victory oh so much more sweet.
Alan Dorton Veterinarian Versailles, Ky.
You know if you have animals and live in Kentucky, I would think twice before taking your pets to this brain trust. I hate to say that but I want someone with a tad of critical thinking to be operating on my pet. Again see
LSU Football Fans HATE AMERICA- Kentucky Paper
that answers all this silliness.. It really boggles my mind that a person with an advanced education would think deep South Southerners would be unpatriotic and that they disrespect the national anthem. Again that should be clues for him to be a tad more inquisitive as to what occured.
I will not share the many horror stories I heard of how LSU fans were treated. Again I think most of the fan base at all schools are good funloving fans. Each has it sets of jerks. However this is really getting out of hand. It is also doing something that I hate. Most LSU fans I knew before this crying jag really liked Kentucky. After being told that basically we are uncooth rude people for the millionth time that is starting to change. I shall continue to root for Kentucky. But parts of Kentucky fandom needs to get a grip.
Update-
This is really stating to irk me. Lord Knows we can ask but I doubt that Skip Bertman AD at LSU would spend the money to run a full page ad in a Kentucky paper explaining what happened. However I think our honor as LSU fans is being questioned here.
I strongly urge that people email the
Sports tap radio show
and ask that they give us a few minutes to speak our case. This show really puts a focus on SEC football and is
heard across the South as you can see here
. We can no doubt come up with a list of people that were at the LSU/Kentucky game to explain what happened.
After that let the hillbillies believe what they want to believe. The Sports Tap have done segments on SEC fan behavior before and might take a interest.