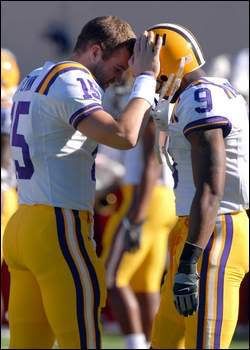 I am putting up one my favorite Pics again. Flynn with Doucet that I posted earlier when Doucet got drafted to the Cardinals
I am very happy for Flynn. Watch Matt Flynn in five years he will be more than just a back up QB!!!! I really thought Dallas would pick him up but I am excited that one of my favorite LSU players is involved with a NFL team I love.
We know this about Flynn after sitting behind Russell at LSU for four years. He is very patient and very much a team player.
As I have stated on my other draft posts I shall be doing a Overall Louisiana Draft day post with all players that have a Louisiana connection with realted news articles on all of them