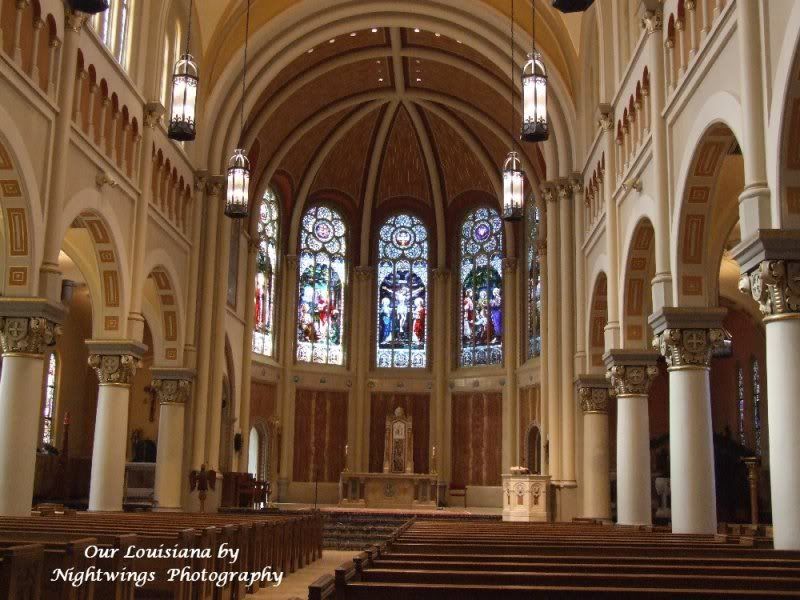 The inside of the Cathedral of Saint John in the Diocese of Lafayette Louisiana
Time for the Louisiana Catholic Blog Update. It is Saturday so it will be light

.
Vox Feminae
has some post up. Our Diocese is blessed that she shares her musical talents with us. In fact on Monday she will be sharing it in front of 22 Bishops , 3500 Catholics, and I think the Papal Nuncio when we install our new Bishop this monday in the Diocese of Shreveport. (
Sadly though she is about to be move to Fort Worth :(
)
However we have her for now. She has a link an review to a great book here at
Psallite Sapienter
. It is a Musicians guide to the 1962 Missal which might be a handy thing to learn. IN her other posts she muses about sons future Summer Adventures of mowing yards under the Horrific Texas sun. Been there done that. Go see
Saturday yard work
Full Circle
has got his IPOD Rosary all ready to go and it's available for you free of charge!!! GO see
Adding the iPhone rosary as a permalink on the right
Apprentice of St. Joseph
has good post up at
Smoke of Satan" and Liturgical Abuse
This is about the very interesting interview a Cardinal in Rome gave. He also uses that as a jumping off points to talk about Vatican II and Church Architecture!!!
Thoughts & Ruminations
of Father Ryan has some posts up. He sometimes puts his Homilies up for us to view. This weekend is Trinity Sunday , I was hoping to see how he was going to explain the Trinity in 10 easy steps to his flock. However instead of that we got some cute pictures of cats which I like . Go
here
and
here
Footprints on the Fridge
is has a link to a Rosary Fair!!! GO see
Simply Lovely Rosaries
Catholic Underground
, The Louisiana based Podcast to the World, has their show up for you to listen too. It is
Episode 75: I Have Found A Fish That Dare Not Speak Its Name
. The description is
This time, we chatter about the top 5 RCIA Questions of all time, what exactly a year of St. Paul is all about, the usual trip on the cu metro, picks of the week, and we send backChat on vacation. Enjoy
! Their shownotes which are links to what they are talking about is located here at
Episode 75 Shownotes
Our Catholic Deacon from New Orleans
Life on the (L)edge
has several posts up. Go see
BLESS ME, FATHER...
and
CATHOLIC, NON, OR FORMER. AN INVITIATION
. For some reason the computer I am on is blocking You Tube but the Good Deacon tell us that this is "Hilariously accurate!!" at
LIKE... YOU KNOW?!?
From The Recamier
has her daily update
here
Catholic Tube
has VIDS. Go see
Reflecting on the Ascension
Maudie in Mandeville
has
Filet Mignon, the new hero of the Democrats
Finally be sure to Check out all the great post and links that
The Brown Pelican Society
has up today. He is my first stop most mornings as to Catholic News we need to know
That is up for the daily Louisiana Catholic blog Update. The next one I hope to get out will be early Monday morning